The meal I prefer during the day is without hesitation breakfast. Not only because it's the only one that's « sweet » (you know my weakness for desserts right ?) but also because it's the one that defines the rhythm of my day!
As one infamous advertisement would say :  » Spread the happy ! « 
If I start by eating badly in the morning, taking for example as I did when I was addicted to sugar: a bowl of industrial  » cereals  » full of chemistry and added sugar and with cow's milk… Well I don't go far or very long (another Swiss advertisement that makes me laugh, you recognized it ?).
Too much sugar + chemistry + animal milk = bad digestion for sure ; lack of vitamin, lack of fiber, lack of protein, minerals… Bad balance in a general way without thinking about the peak of hyperglycemia which awaits us and this famous moment so dreaded which follows it insidiously: the peak of hypoglycemia which asks the brain a new contribution in sugar. The beginning of a vicious circle whose consequences are underestimated.
We often come back to the fact that we can only trust ourselves when it comes to food. It is understandable to want solutions that make our daily life easier (and that save us time) but at what cost ?
I will show you how in just 15 minutes, it is possible to make a nutritive breakfast for the whole family ! In addition, this one has the advantage of being able to be prepared the day before.
Protein vegan Birchermüsli
Does birchermüsli mean anything to you ? If you're from around here, I'm sure you know it. It is a cult recipe invented in the 90s by the Swiss doctor Maximilian Oskar Bircher-Benner. The word muesli literally means « small purée ».
Muesli is a blend of oat flakes and other ingredients including fresh and dried fruits and seeds. In the 1990s it was often mixed with cow's milk. Today the recipe has been adapted for everyone, and the one I am giving you is by the way vegan.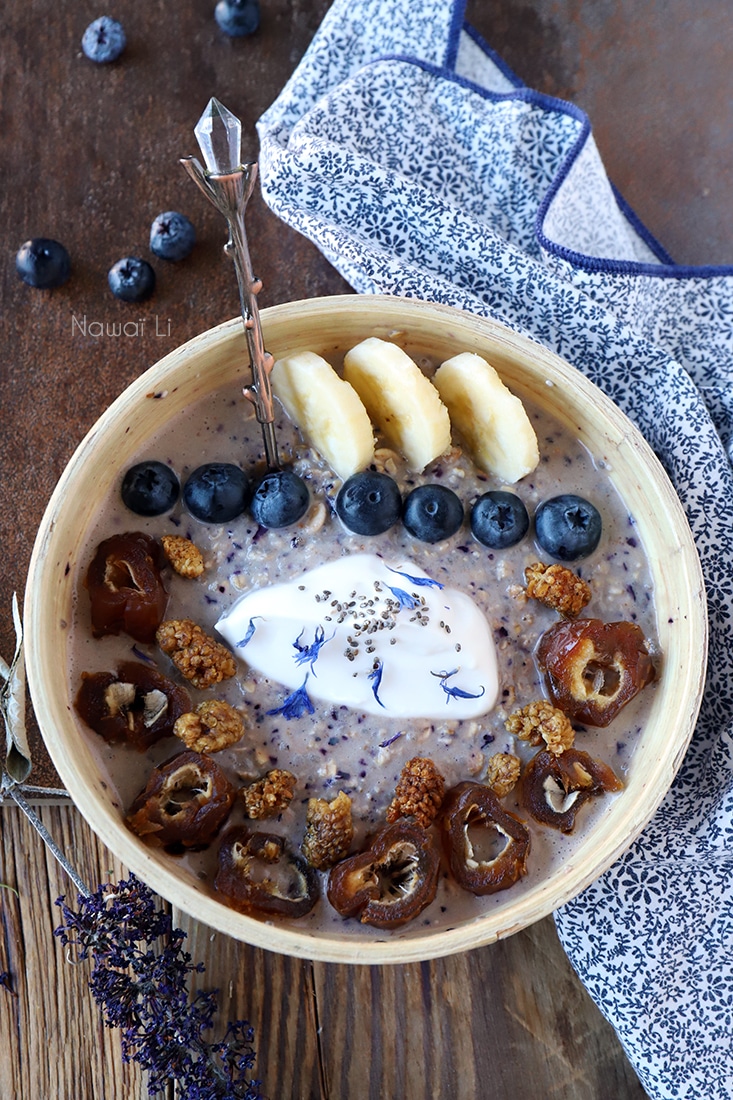 Balanced breakfast ready in 15 minutes
The principle is therefore simple, we prepare a homemade vegan milk, which we will flavoured with fresh fruit to make it a little more fun, and we will mix this milk with our cereals (whole) and seeds (to increase the protein intake of our bowl).
You see, nothing complicated !
Thanks to this recipe, it's impossible to start the day off on the wrong foot. You'll have plenty of good macro and micro nutrients, no added sugar and no chemistry. All the ingredients I use are organic and local wherever possible.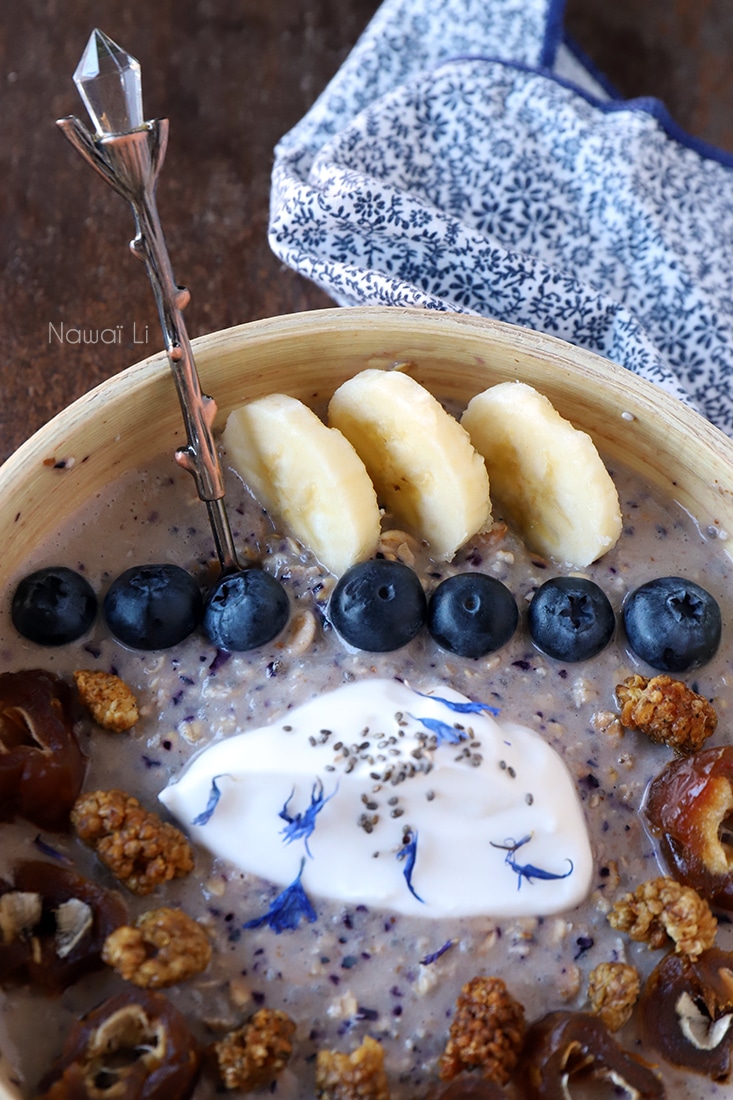 Print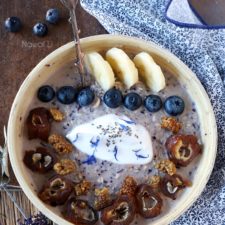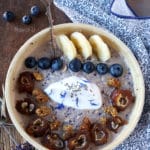 Vegan Birchermüsli
---
Author:

Temps de préparation:

15min

Total Time:

15min

Quantité:

2

bowls

1

x
Description
A delicious bowl of homemade muesli without any dairy product. A nutritious and complete breakfast.
---
---
Instructions
Prepare the blueberry milk by placing the rinsed almonds, water, 200g blueberry (the remaining 50g for decoration), 1 and a half bananas (the rest for decoration) and medjool in the blender bowl. Mix until a homogeneous milk is obtained.
Prepare 2 nice bowls. Place 4 tbsp of oat flakes and 1 tbsp of chia seeds in each bowl.
Pour the milk over, mix and let stand 5 minutes. Add a little more milk if necessary.
Decorate by adding sukari, the remaining bananas and blueberries, a little coconut yoghurt.
Notes
*Soaked almonds are almonds soaked the day before in a glass of water and left overnight in the fridge. The next morning, the soaking water is thrown away and the almonds are rinsed. This reactivates the almonds which increase their vitamin, protein and mineral content.
**Hand-picked organic date varieties. I find them at Palmyra delight's. Use the code « NAWAILI » for a 10% discount on their entire online shop.
Add more or less dates to balance the sugar in your bowl to your taste.
Catégorie:

breakfast

Cuisine:

europe
Nutrition
Calories:

100% homemade with love
Keywords: birchermusli, birchermüsli, nutritive